We are very close to releasing Glamour Spell, the 5th episode of Pendula Swing. This newest episode will be available on Steam on May 16!
Glamour Spell brings Brialynne to the Entertainment District. She also learns the password for the Speakeasy, which is located in the Harbour District. So in terms of areas to explore, besides walking around this brand new, rich and glamorous part of Duberdon, you will be able to:
indulge in extravagant shopping at the luxurious Silvergate Department Store
watch a surprising movie at the Cinema Metropol
dance* your heart out at The (illicit) Silver Gate Speakeasy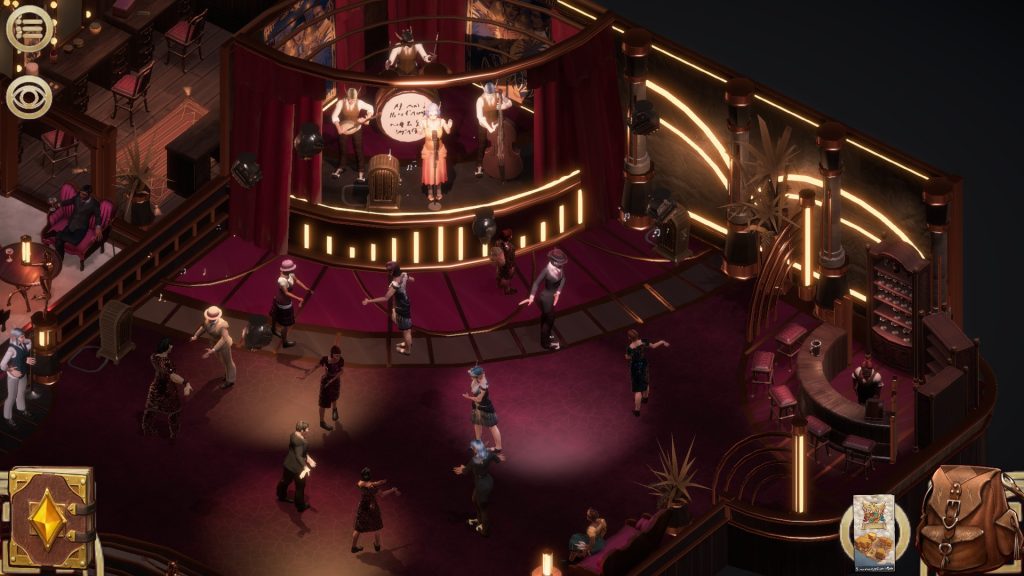 You'll make impressive progress in your quest to guide Brialynne towards her stolen legendary axe, getting as close as encountering the very thief who stole it. His name is Kit Wings and his story, completely unexpected… and might lead to romantic endeavours should you, as Brialynne, so desire. So yes, dear adventurers, a very exciting feature we are happy to announce for Glamour Spell is the ability to romance and kiss (!!!) a character. Is Kit your only romantic option, though? Who knows?! 😉
Of course, with the addition of an exquisite Entertainment District, a cinema and a speakeasy, Brialynne might feel incline to dolly herself up**. So here's some tips: Silvergate's Department Store hosts a wonderful Beauty Parlor and an excellent selection of party dresses!
We hope you enjoyed these screenshots! Download high rez screenshots here!
*Brialynne really hates to dance. We are thinking about teaching her, but we'll see!
**Brialynne will never really feel inclined to doll herself up. But you can!